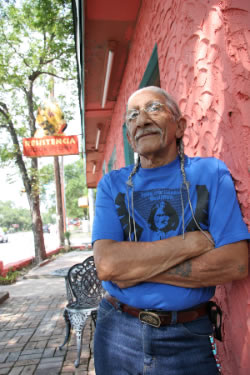 Poet, Writer, Activist - Raul R. Salinas
Tonight Payan put together a wonderful tribute and fundraiser for Austin poet
Raul R. Salinas
. He's been very ill this past year and unable to keep up his public appearance schedule. As a result, Raul's independently owned bookstore and publishing house have fallen on hard times.
Payan, Salinas y Pocha
I first met Salinas a few years ago while attending the
NALAC Leadership Institute
in San Antonio. He came out to do a poetry reading and blew my mind with his gentle presence and powerful imagery. Hanging out with Raul afterward he revealed a joyful spirit and wicked sense of humor.
Payan passes over several thousand dollars in donations
It's an honor to help Raul keep his dream alive, and a joy to see so many good people come together in celebrating his work. The
Esperanza Peace and Justice Center
was the location for this night's event which drew a sizable crowd.
Salinas y su artistic familia
The best part of the evening was seeing Raul connect with everyone. He was smiling like a little kid! After all the pain and toxicidy of his treatments, it was good to have his spirit uplifted. Salinas wasn't able to perform his poetry of liberation this evening, but we captured a performance earlier in the year at
Ruta Maya
coffee house. Check out "Hail Pachuco" below...